Respirator Fit Testing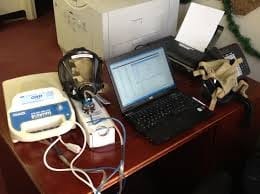 Fit testing is required in OSHA's respiratory protection standard (29 CFR 1910.134[f]
A respirator is essential to protect employees against respiratory hazards. If the facepiece doesn't fit tightly on the employee's face, the employee could be exposed to the very hazards the respirator is designed to protect against. A.O.S utilizes the following methods of fit testing.
Quantitative
This test is performed on the OHD Quantifit, a highly specialized instrument which utilizes the scientifically-proven and patented CNP (Controlled Negative Pressure) technology to directly measure respirator leakage. The OHD Quantifit is accepted by OSHA and appears in the Federal Regulations governing fit testing [29 CFR 1910.134].
Qualitative
The 3M Bitrex Respirator Fit Test can be used with any particulate respirator or gas and vapor respirator with a particulate filter to test facepiece to face seal fit. The Bitrex solution is simply sprayed into the hood environment while the employee wears the mask. If the wearer does not detect the test agent's taste (Bitrex), an acceptable respirator fit has been demonstrated. This method is also accepted by OSHA.